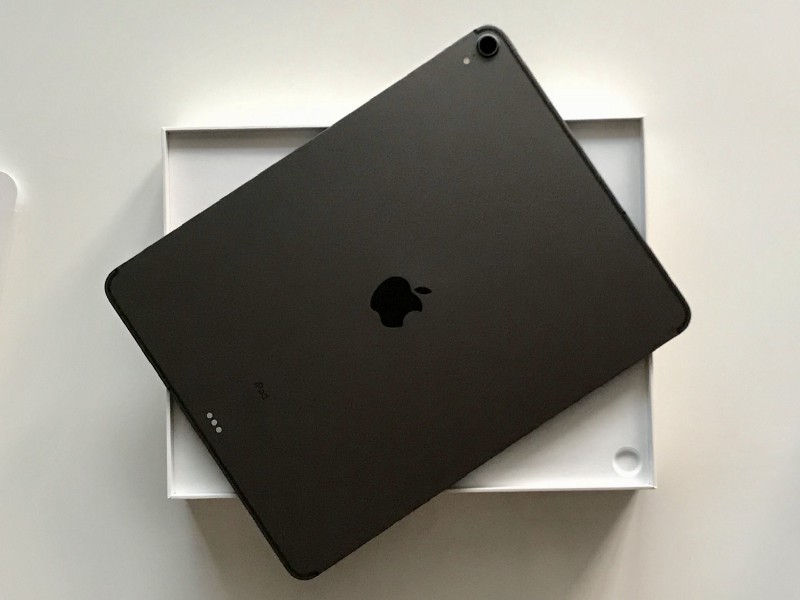 iPad Pro 12.9-inch 2018 Review: Still Not Your Laptop Replacement, But It's Getting There
It won't replace your regular laptop with full-blown operating system just yet, but it's god-damn near.
Ok, here's the thing. If you're interested in buying a new iPad Pro, you've undoubtedly already seen every video about unboxing, preview and review available on YouTube.
There are two types of reviews, though. Some are made by famous YouTubers with lots of followers. Those people usually get the device right from Apple for free and with full specs. Then, there are those of us, who actually buy the product, and not necessarily the top-of-the-line model.
When I look at all those reviews, I usually miss something and it's the real-use scenarios. The most popular reviews are almost always only about benchmarks, tech parameters and maybe some quick doodling or shuffling between apps.
I want to show you here how I personally use my iPad Pro and try to answer the question if it's worth upgrading to the newest model or buying it as a laptop replacement.
I will talk about hardware, software and even an alternative device I have a personal experience with. It's a completely different animal, yet it's in the same price and size league. It's Microsoft Surface Pro 6.
Ok, let's get to it.
Hardware
Storage and RAM
It's a known fact that the new iPad Pro comes with 6 GB of RAM only when you opt for 1 TB of internal storage, however, if you buy a model with less storage, you'll end up with only 4 GB of RAM. I don't know how this plays out regarding the overall performance, but it's important to take this into a consideration.
I ordered the 12.9-inch version with only 256 GB of storage because I see no reason to have more. On my current 9.7-inch iPad Pro from 2016, I still have only 67 GB used and I don't really delete stuff.

Performance
In case of a raw CPU power, the Geekbench says, there's no difference between my version and the top of the line model.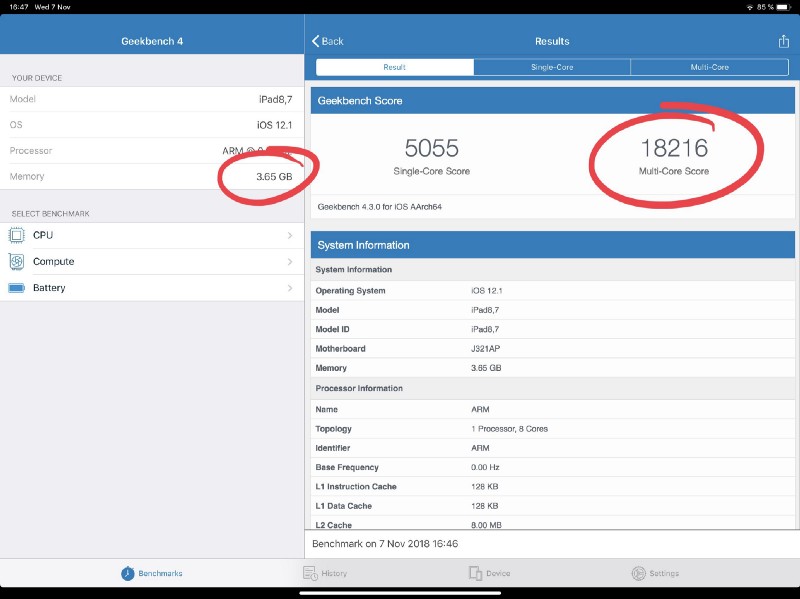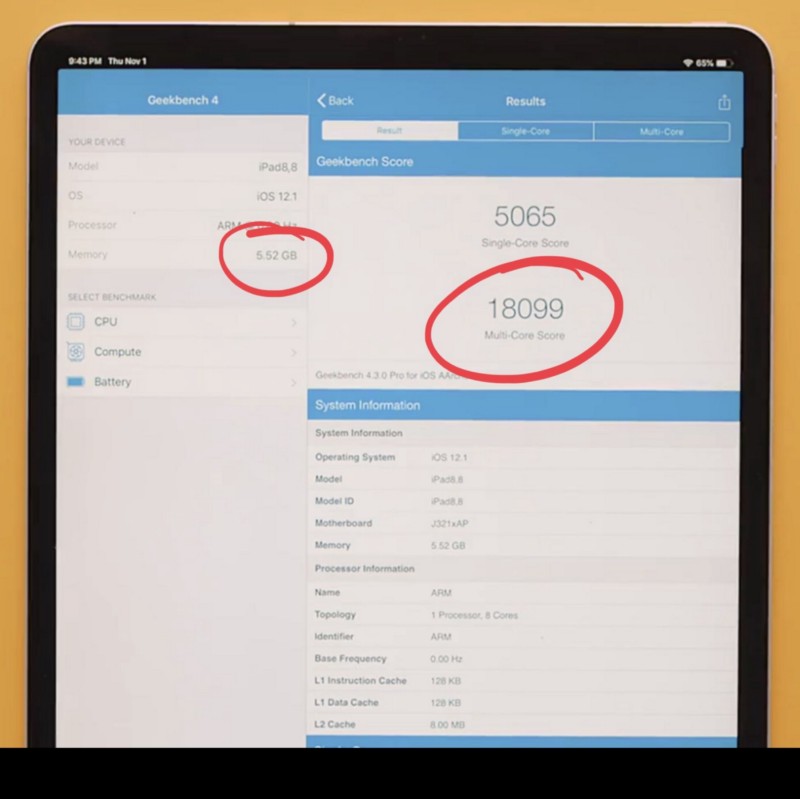 But as expected, there's a huge performance bump from my old 9.7-inch model.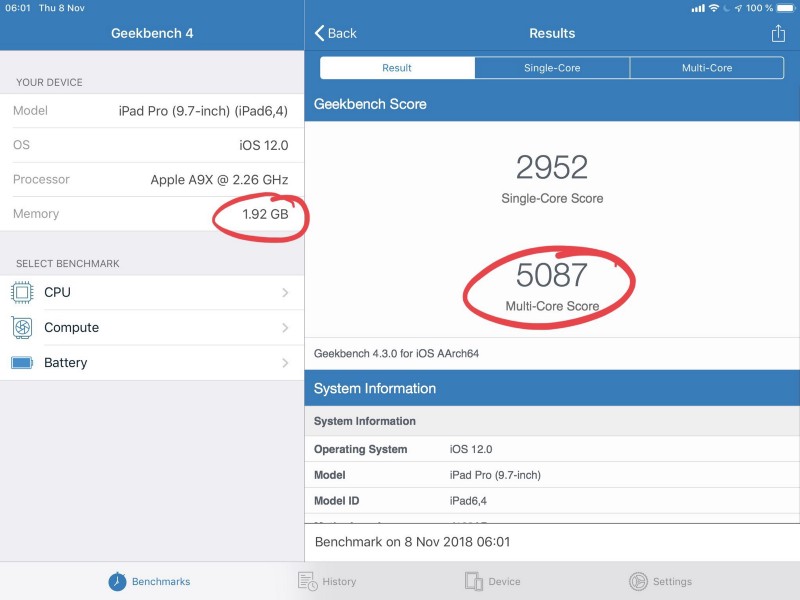 Now, to give you some perspective, this is the result for Surface Pro 6 with Core i7 and 16 GB RAM.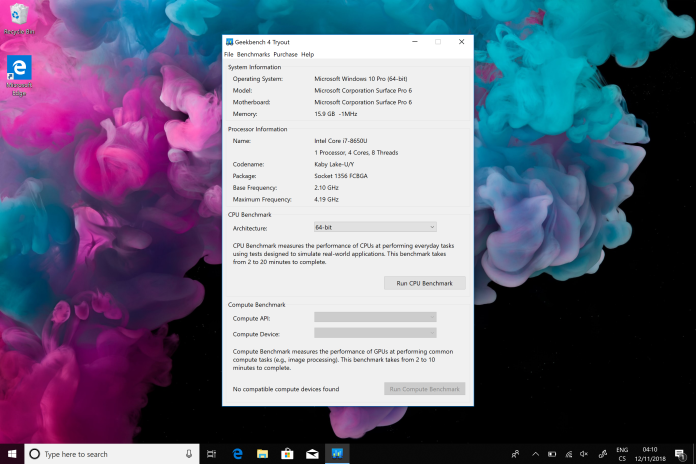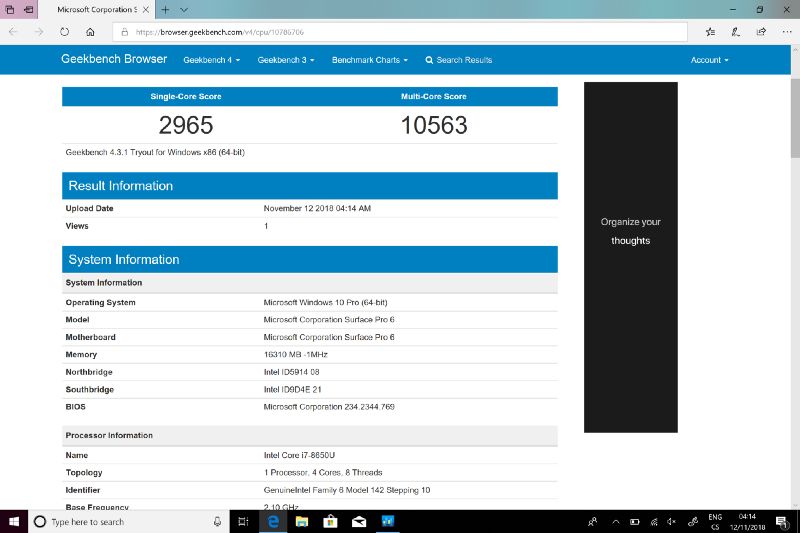 Size and Weight
This thing is big, yet small, heavy, yet light. I know, this sound crazy, but unless you hold both 9.7-inch and 12.9-inch models in your own hands, you won't understand what I mean.
On paper, 9.7-inch is both smaller and lighter, but in reality, the 12.9-inch model feels lighter. Maybe that's caused by the distribution of the weight, but 9.7-inch feels like a brick now and 12.9-inch feels like a plate.
All and all, the new bigger model is more pleasant to hold in one hand. I have no problem walking around with it, watching Netflix, reading documents or browsing the web.
Apple Pencil is a gimmick
Yes, for me at least, Pencil is just a "fun" stuff like Touch Bar on MacBook Pro. I've had the original Apple Pencil for two years now and I rarely find a meaningful use for it.
I'm no artist and taking hand-written notes only forced me to rewrite them later anyway. I doubt that a new Pencil will change my point of view only because it charges wirelessly now and can be placed right to the iPad. Probably not.
Now, this is expected, but I still feel that I need to point this out. You can't use your old Pencil (1. generation) with this new iPad Pro because since there's no Lightning port, there's no way to connect the old Pencil and pair it with the new device. I didn't even try to test some USB-C to Lighting cables since it makes sense that Apple just doesn't support this.
Also, for a similar reason, you can't use a new Pencil (2. generation) with your old iPad Pro because there's no magnet that would pair and charge it. So, yeah, if you think you can save some money by reusing your old accessories, well, you can't.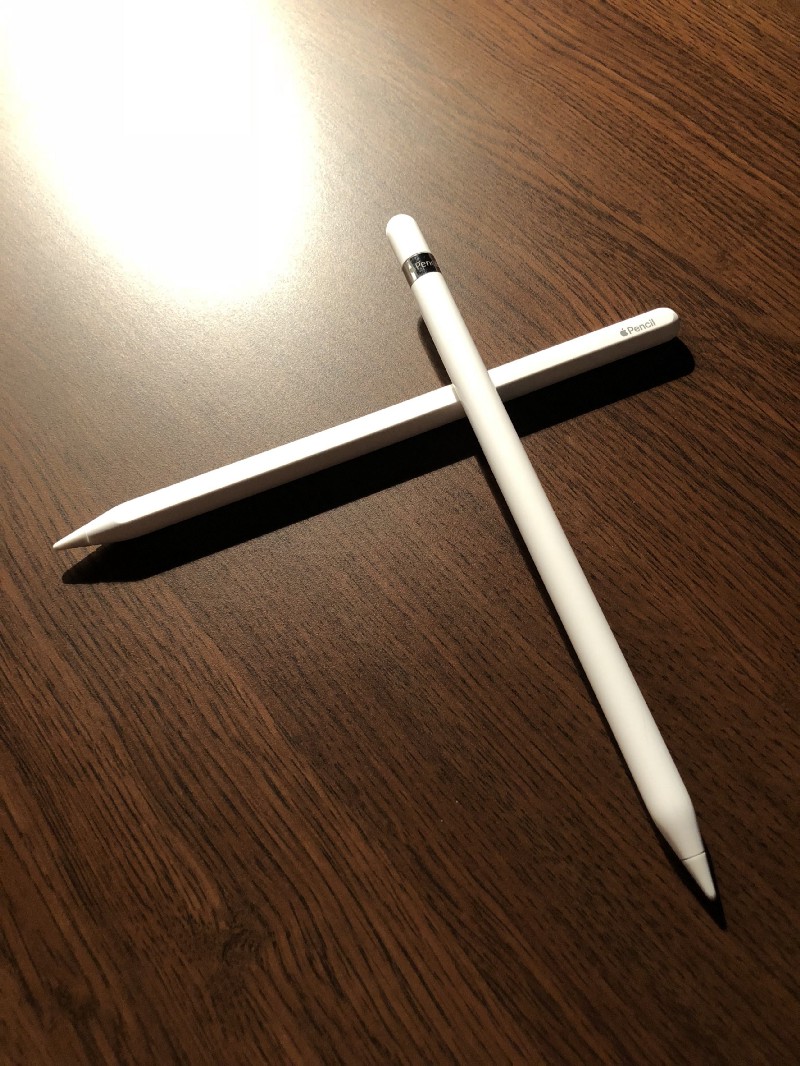 Even though it looks like a new Pencil is fine and always at its place, you'll find that that's not the case when you hold your iPad in the right hand.
This is very awkward and I have to put the Pencil on the table because it's wobbling in my hand and won't let me hold the tablet with a firm grip.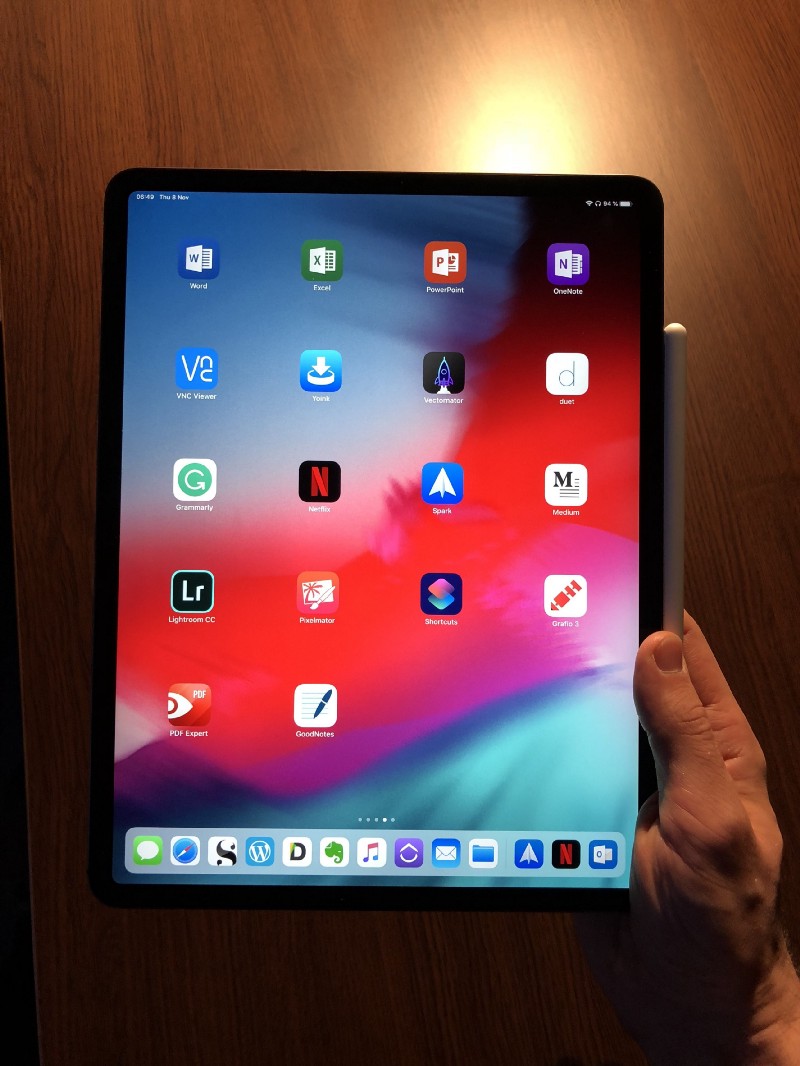 If your workflow is so simple that you can use iPad instead of A notebook, then there's no reason to buy such an expensive tablet as iPad Pro. You'll probably do just fine with any Chromebook.
Smart Keyboard is not that smart
First, this keyboard is way bigger than what I've been used to on 9.7-inch version, which is a good thing. It's actually almost identical regarding the spacing between the keys that it feels almost like writing on my old MacBook Pro, which is amazing. On the other hand, I like the previous generation more because of the way the keyboard is attached to the iPad and more importantly, how easy it is to tear it out when you don't need it.
With this new keyboard, there's nothing to tear out and you can only fold the keyboard on the back of the iPad or get rid of the whole cover exposing the precious back of this machine. Not a good move here, Apple. Yes, I understand that this way, they got rid of that strange origami folding, but the result is not better regarding the real-use scenario. When I want to watch Netflix, I want to tear the keyboard out, but I want to keep the back of the iPad protected, well, with new Smart Keyboard, this is not possible.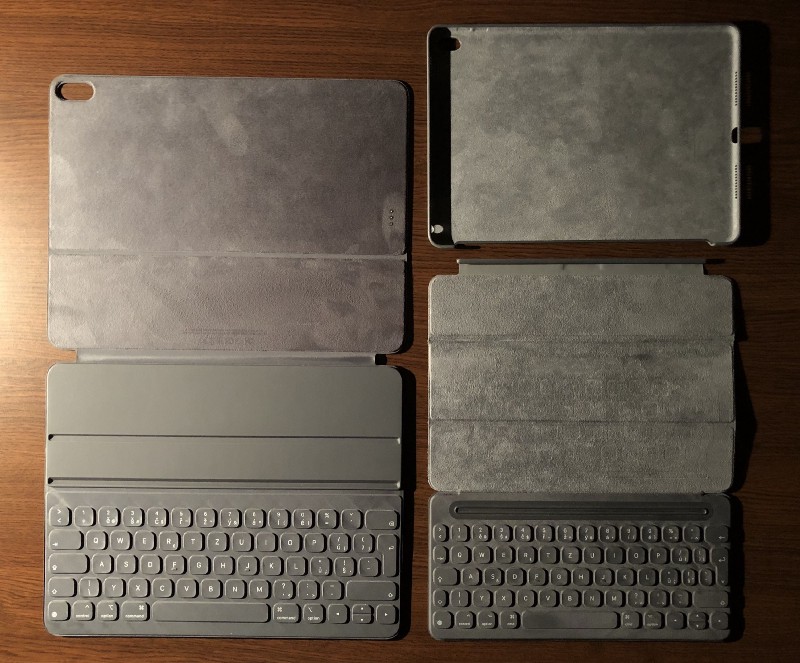 Software
Margins
As you can see on the screenshot below, some apps aren't updated yet to take the advantage of a new screen size so you actually end up with bigger borders than on older iPads 🙂 But I believe that this will get fixed very soon with updated apps.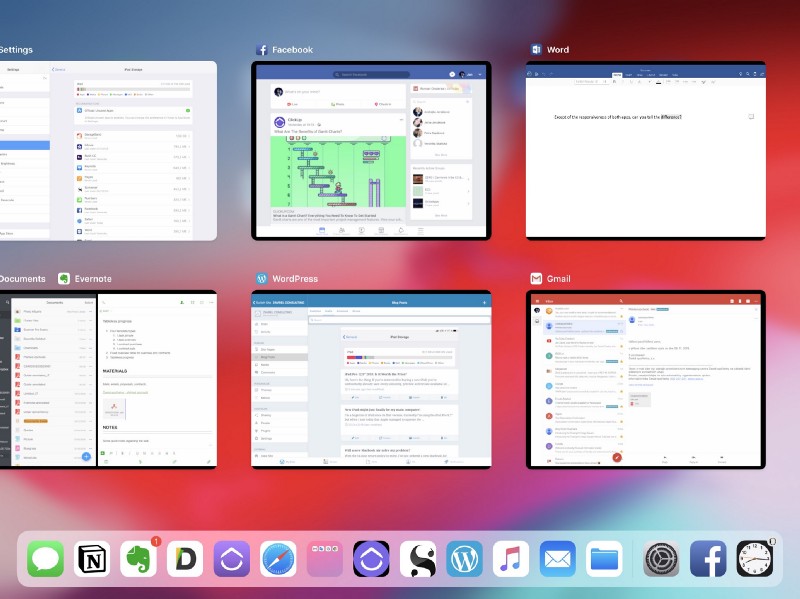 Netflix & the rest
Call me crazy, but I don't watch TV because I'm trying to walk as much as I can and TV is pretty hard to walk with. iPad is a great device for this.
So basically, when I want to watch a movie or some series, I just rent it via Google or Apple services or run Netflix. While watching, I'm walking around my apartment. I tried this with a regular notebook and it's not cool, with iPad, it's perfect.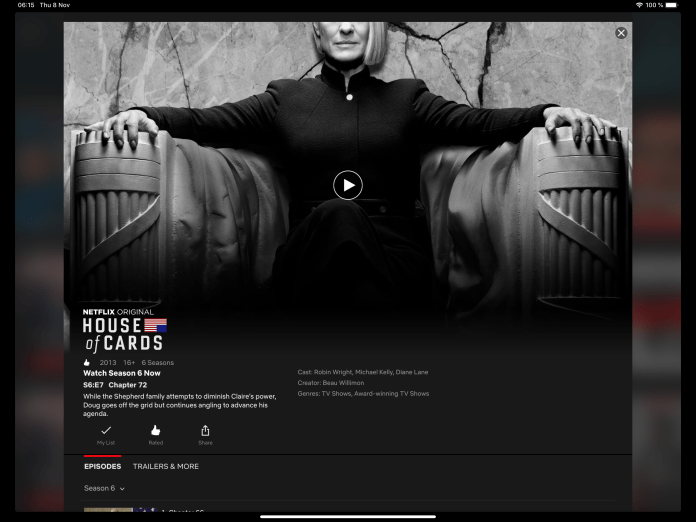 LiquidText
There are apps that dictate which platform to use. In my case, it's Xcode and Sketch for macOS and LiquidText for iOS. LiquidText is a very unique and powerful PDF annotation app, but actually, it's much more. There's nothing like this available on a regular computer, but LiquidText is working on its own solution for Windows, so we'll have to wait.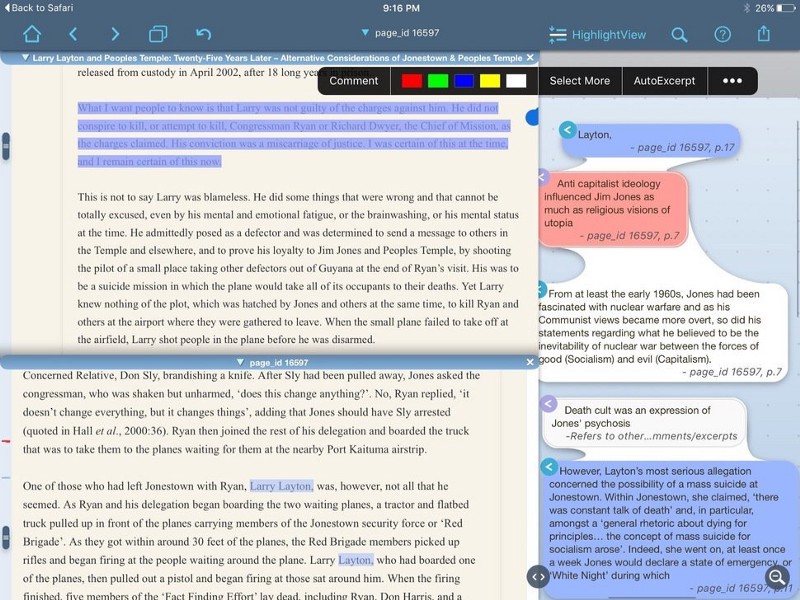 Scrivener
When it comes to content creation, my most frequently used app is probably Scrivener. You see, right now I am in the middle of producing a huge web development course and I have the script for this course stored in Scrivener. When I need to record a screencast for a specific lecture, I can easily read the script on iPad while recording the Mac screen where I work. This setup is perfect for me and 12.9-inch iPad Pro makes this even more productive as I can see more text on the screen without the need to swipe up frequently. And by the way, you can still sign up for an early access and get this new course for free once it's done! Learn more here: www.twdc.online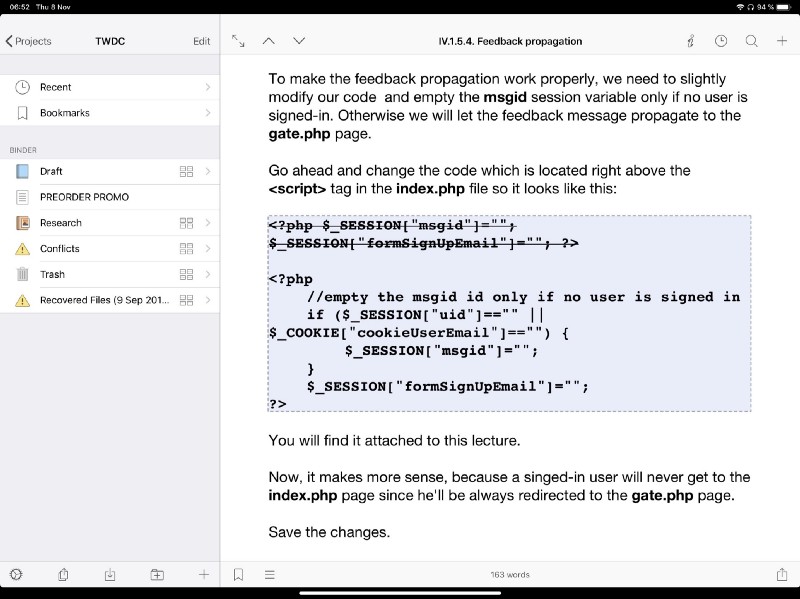 Pixelmator
When Apple announced that Photoshop will come to iPad in 2019, I wasn't overly impressed because Pixelmator just fits my needs and there's always Affinity suite of graphics apps if I miss some function.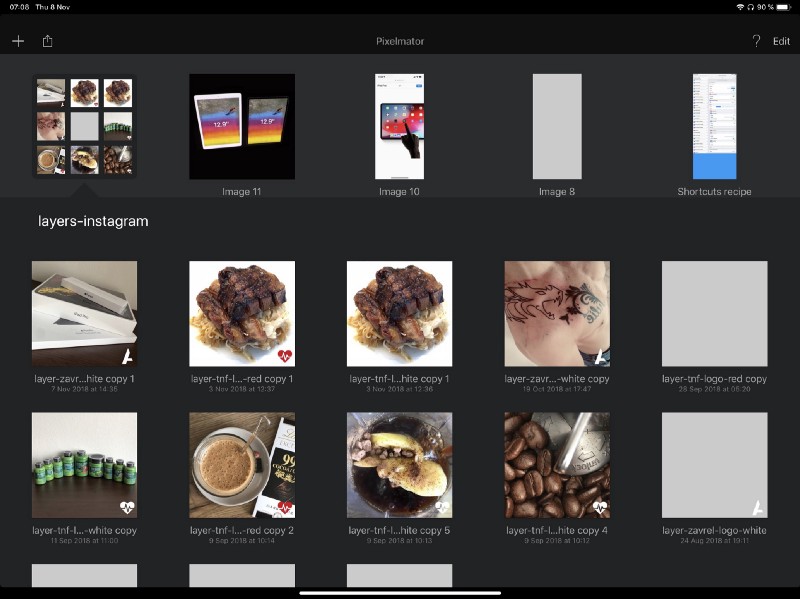 Vectornator
Almost amazing replacement for my beloved Sketch, which is probably one of the reasons I just can't say goodbye to Mac. Almost amazing because it doesn't have multiple artboards.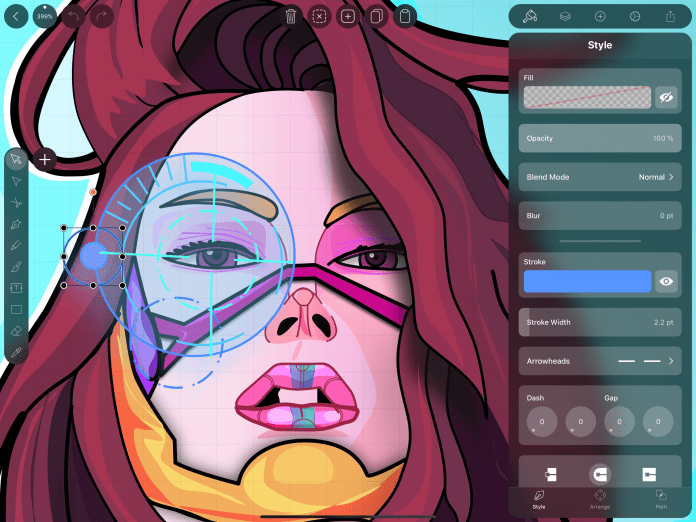 Files & Documents
Apple's built-in Files app is a small revolution, but I personally love Documents by Readdle especially when it's extended by PDF Expert. This is where iPad beats Adobe Acrobat by a wide margin. PDF Expert is super easy to use and really fast. When I remember how painfully slow Adobe Acrobat for Windows is, I understand why I preferer iPad when it comes to working with PDF files.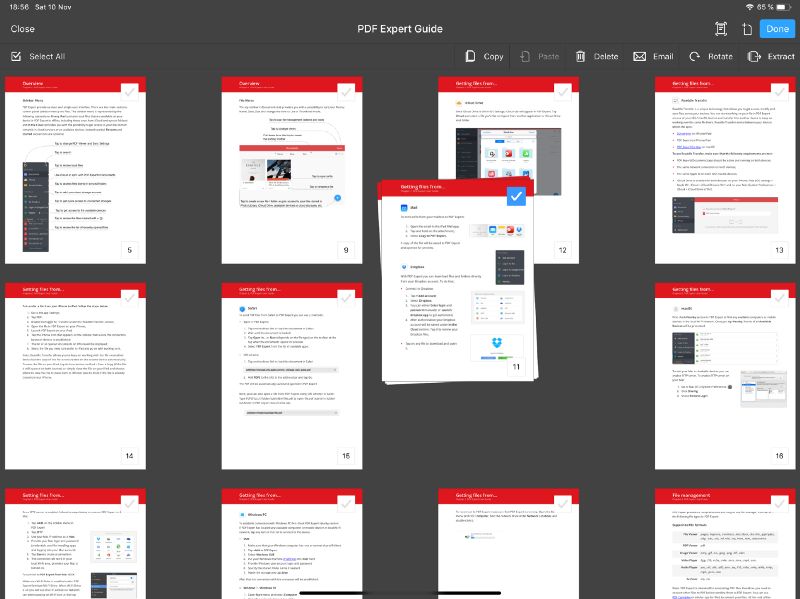 Drag & Drop
This is something you can't do on Windows. You need to save the attachment to your hard drive first and then add it as the attachment to Evernote. Very frustrating. I tried both Outlook and Mail apps on Windows. No luck…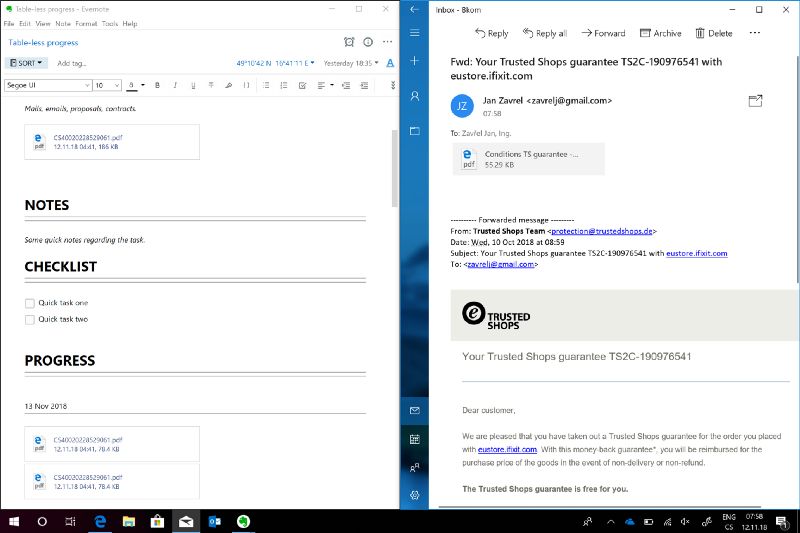 iOS & OCR
There are three scenarios:
You receive a PDF without an OCRed layer — this is just an image and you can't search in it.
You receive a PDF with an OCRed layer, so it's a searchable text on top of the image — this is the ideal situation.
You create a PDF by taking a photo of the document.
In the first scenario, you are quite limited because most scanner apps can't OCR the already existing files and they only allow you to OCR what you scanned with them.
If you want to OCR the already existing files, you need to buy either PDFPen Sken+ or ABBY Profi scanner. It seems like ABBY needs the internet connection for this feature to work because it actually sends the image for OCR to their server. So offline OCR is not an option.
Microsoft Office
Word, Excel, and Powerpoint make a great productivity package, and with OneDrive, you can completely forget about something called "local storage" because everything can be safely stored in the cloud. This is a big advantage over a traditional approach where your main storage was on some failure-prone hard drive.
The only thing I miss now is the discontinued ability to edit and send back the attachments. I'm positive it worked on iOS, but now when I'm finished with editing some Word document, clicking that left arrow won't take me back to Outlook but rather to the list of documents. This is sad and I hope Microsoft will fix it soon. But maybe it still works and I just forgot how to do it, in such case, please help me in the comments below.
WordPress
It's very easy to draft articles and most importantly to quickly add photos taken with iPhone or even iPad itself as they're readily available via iCloud and/or in the internal storage. As a matter of fact, I'm just writing this article on my old iPad Pro 9.7-inch while waiting for the 12.9-inch iBeast which should be delivered any time now 🙂
No, I'm writing it on a new iPad Pro now 🙂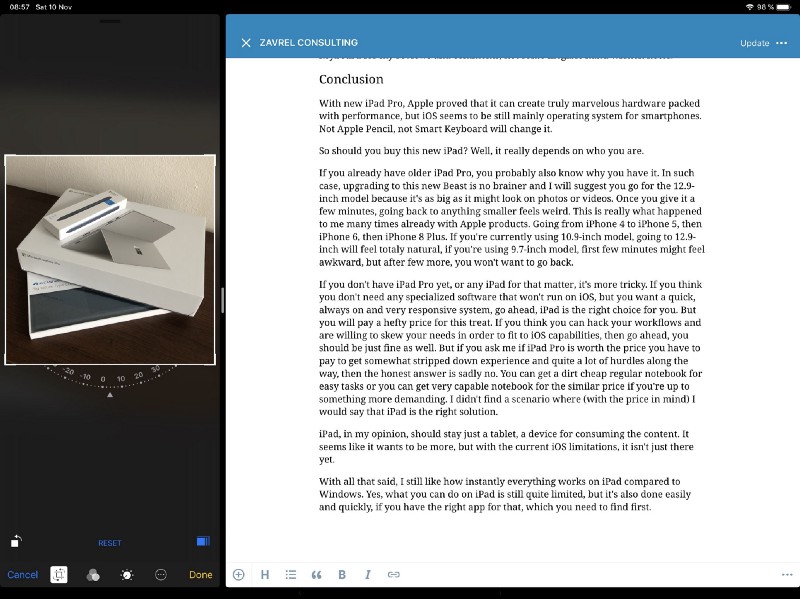 Evernote
This is a really sad story, but it's not iPad's fault, it's the app's fault. You see, I love Evernote so much I even wrote a book and created an online course about it, but Evernote wasn't able to implement the tables properly yet. You can see them on iOS devices, but you can't edit them — adding/removing rows and columns. This is unfortunate and my current solution is a reserved row which I won't use unless I'm on the iOS device. Yes, pretty silly, I know.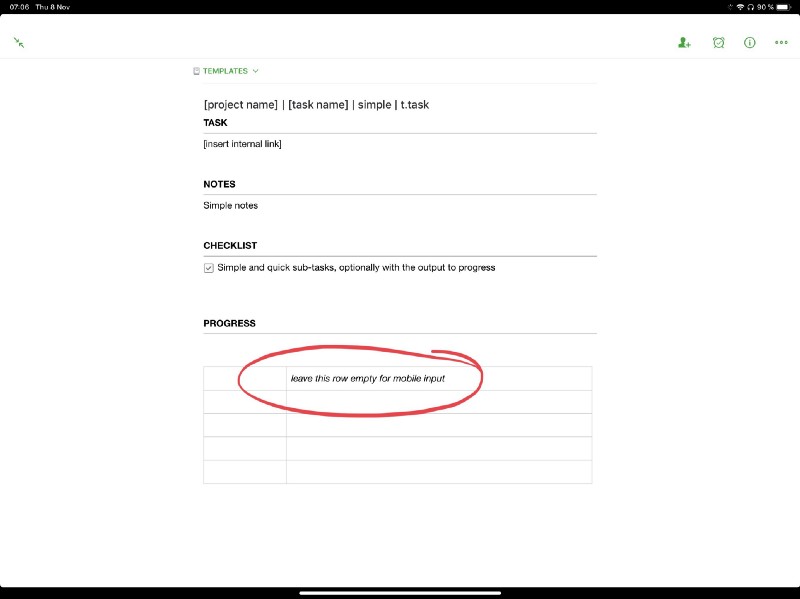 Notebook killer?
This is what Apple is really pushing and I don't say that iPad Pro can't replace the regular notebook. It all depends on what you do, but the gist of this topic is this: If your workflow is so simple that you can use iPad instead of a notebook, then there's no reason to buy such an expensive tablet as iPad Pro. You'll probably do just fine with any Chromebook.
On the other hand, if the price is not an issue for you, then I would suggest for example to take a look at Surface Pro instead because it really gives you the best of both worlds and it's pretty much the same size and weight. But unlike iOS, Windows 10 will let you work without compromises. With that said, iOS and its simplicity isn't always a bad thing, quite contrary.
Apple has a Pencil without the eraser while Microsoft has a pen with the eraser on the top. The world has gone crazy 🙂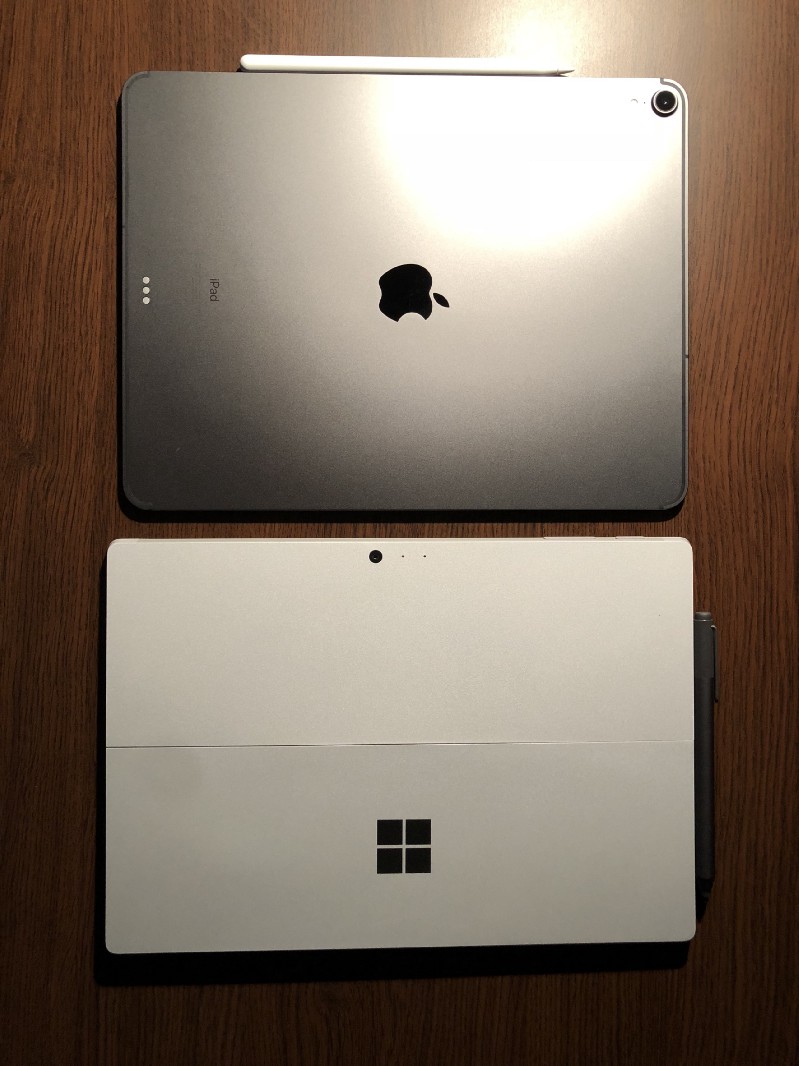 Alternatives
Let's take a look at an alternative device in the same price range.
As a matter of fact, I have a brand new Surface Pro 6 here:
it's a tablet — check
it has an external keyboard, sold separately — check
it has a stylus, sold separately — check
it's positioned as a computer replacement — check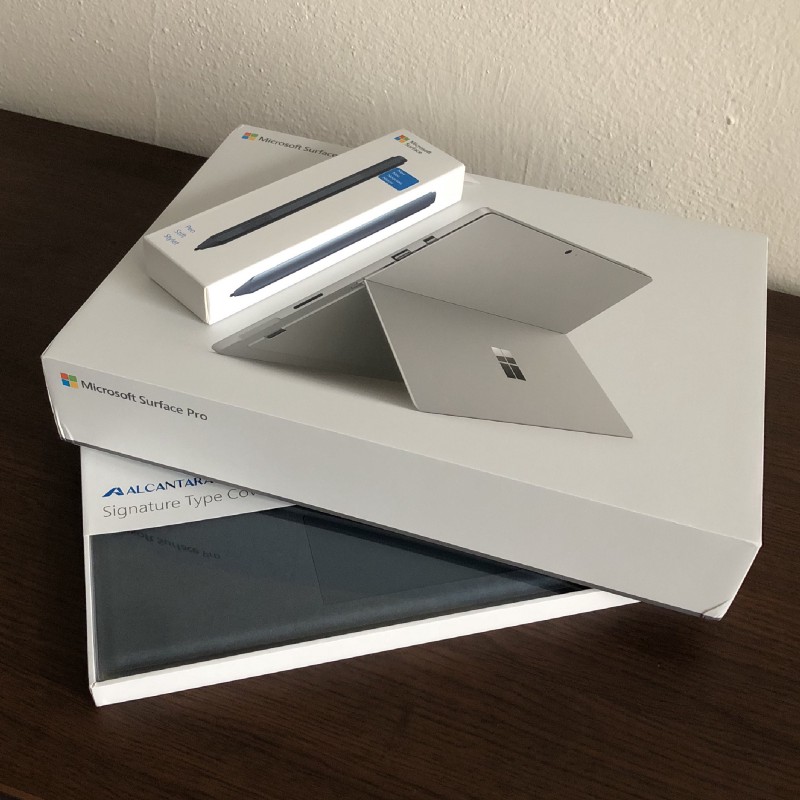 Price & Performance (bang for your buck)
Display size:
iPad: 12.9-inch, Surface: 12.3-inch
Display resolution:
iPad: 2732×2048 (264 PPI), 4:3 ratio, Surface: 2736×1824 (267 PPI), 3:2 ratio
Weight:
iPad: 633 grams, Surface: 770 grams (Core i5)
Storage:
iPad: 256 GB, Surface: 256 GB
RAM:
iPad: 4 GB, Surface: 8 GB
Device price:
iPad: $1,299, Surface: $1,199
Keyboard price:
iPad: $199, Surface: $130
Stylus price:
iPad: $129, Surface: $100
Mobile data:
iPad: Yes, LTE, Surface: No
Versatility
Surface runs Windows 10, so it's practically your regular PC with a file system and desktop apps. However, the ease of use is sometimes problematic if you try to use it as a tablet. It's a PC first and a tablet second. While iPad Pro is a tablet first and a PC, well, third?
Regarding the versatility, a regular PC wins hands down. With Surface Dock, I can connect just one cable to this small box and have everything from charging, the Internet connection, two monitors, a printer, a scanner, and so on. No USB-C? No problem for me.
Responsiveness
While Surface is more versatile, iPad Pro is more responsive. Running a full-blown operating system like Windows isn't always the best solution. Try to open a Word document on Surface Pro and iPad Pro. I bet in all cases, the new iPad Pro will be faster. I tried it with even the beefier spec'd Surface Pro, but not even with Core i7 and 16 GB of RAM was I able to beat Apple's A12 chip with only 4 GB of RAM when it comes to the speed of Microsoft Word. It seems that sometimes, iOS is just faster.
And regarding the look and feel on Word on both platforms? See for yourself: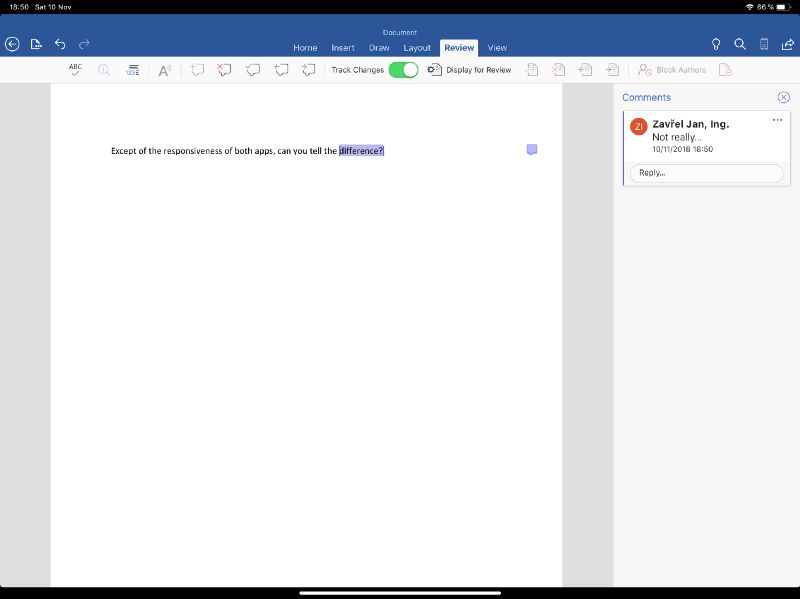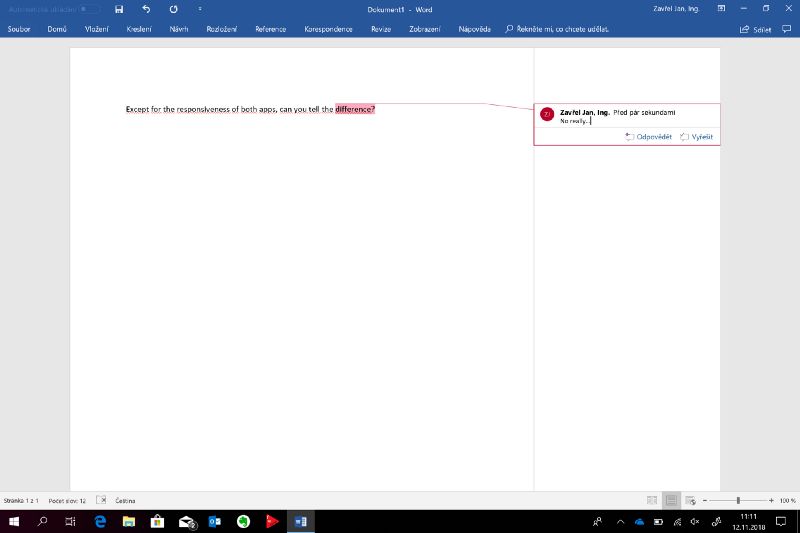 Apple Pencil versus Microsoft Pen
Apple has a Pencil without the eraser while Microsoft has a pen with the eraser on the top. The world has gone crazy 🙂 Anyway, the new generation of Apple Pencil is smarter and it allows you to change the mode by clicking on it. Microsoft Pen is also clever because you have not one, but two "buttons" and especially the one on the top allows you to configure three modes: short click, long click and double click. Also, you can assign whatever action you want to any of these — I say more versatility again.
Features aside, it's still a gimmick. Well, you can review Word documents with Pen, but in the end, you would still rather sit down and use classic review features with keyboard input. Unless you have somebody who will be thrilled to transform your scribbles into a real text. Well, I don't and people I work with expect me to use the classic keyboard for my reviews and comments, not some illegible hand-written notes.
Conclusion
With this new iPad Pro, Apple proves that it can create truly marvelous hardware packed with performance, but iOS seems to be still mainly the operating system for smartphones. Not Apple Pencil, not even Smart Keyboard will change it.
So should you buy this new iPad? Well, it really depends on who you are.
If you already have the older iPad Pro, you probably also know why you have it. In such case, upgrading to this new Beast is a no-brainer and I will suggest you go for the 12.9-inch model because it's not as big as it might look on photos or videos. Once you give it a few minutes, going back to anything smaller feels weird. This is really what happened to me many times already with Apple products. Going from iPhone 4 to iPhone 5, then to iPhone 6, then to iPhone 8 Plus. If you're currently using 10.9-inch model, going to 12.9-inch will feel totally natural, if you're using 9.7-inch model, first few minutes might feel awkward, but after you spend some more with it, you won't go back.
If you don't have iPad Pro yet, or any iPad for that matter, it's more tricky. If you think you don't need any specialized software that won't run on iOS, but you want easy-to-use, always-on, and very responsive system, go ahead, iPad is the right choice for you. But you will pay a hefty price for this treat. If you think you can hack your workflows and are willing to skew your needs in order to fit them to iOS capabilities, then go ahead, you should be just fine as well. But if you ask me if iPad Pro is worth the price you have to pay to get somewhat stripped down experience and quite a lot of hurdles along the way, then the honest answer is no. You can get a dirty cheap regular notebook for easy tasks or you can get a very capable notebook for a similar price if you're up to something more demanding. I didn't find a scenario where (with the price in mind) I would say that iPad Pro is the right solution.
iPad, in my opinion, should stay just a tablet, a device for consuming the content. It seems like it wants to be more, but with the current iOS limitations, it isn't just there yet.
With all that said, I still like how instantly everything works on iPad compared to Windows. Yes, what you can do on iPad is still quite limited, but it's also done easily and quickly if you have the right app for that.
To give you one example of what I mean, I picked iPad Pro almost all the time while working on this review. Why? It's really easy to sit down with it, wake it up and simply start writing. I know I can do the same on Windows PC or Mac, but it takes longer, it means more steps to get the same point. So in this particular case, iPad is a way to go for me. Unfortunately, it's not true for every possible use case.
So maybe it makes sense to have iPad for specific tasks you know you can do better or quicker with it and to have a regular PC/Mac as well for the rest? Probably, but there's the price tag again. If iPad cost half its price, it would be a no-brainer, but with the current price-tag, well, it's really hard to justify a purchase for just the ease of use in some scenarios.